George Eastman Museum and Haghefilm Digitaal carry out full restoration of Cecil B. DeMille epic, in rare Handschiegl Process colour.
Joan the Woman (1916) was Cecil B. DeMille's first large scale historical epic.Using the backdrop of World War I as a framing story, an English soldier in a trench uncovers a buried sword that once belonged to Joan of Arc. From there the film flashes back to 15th Century France and to the life of Joan of Arc. This was also DeMille's most expensive film to date, with a final cost that came close to $303,000.00. All the money shows on the screen. The costumes and set are lavish and the battle scenes impressive. Also impressive is the performance of opera soprano Geraldine Farrar in the title role. Wildly popular as a diva with the Metropolitan Opera, her fame increased with the movies. Joan the Woman was the fourth of six films she made with DeMille. Further enhancing the look of the film was a new colour process devised by engraver Max Handschiegl. Originally known as the DeMille-Wycoff process, it is has since been named after Handschiegl. The Handschiegl Process allowed scenes to be selectively coloured to heighten dramatic effect. It is used many times throughout the film but is especially spectacular towards the end of film for the flames during the burning at the stake sequence.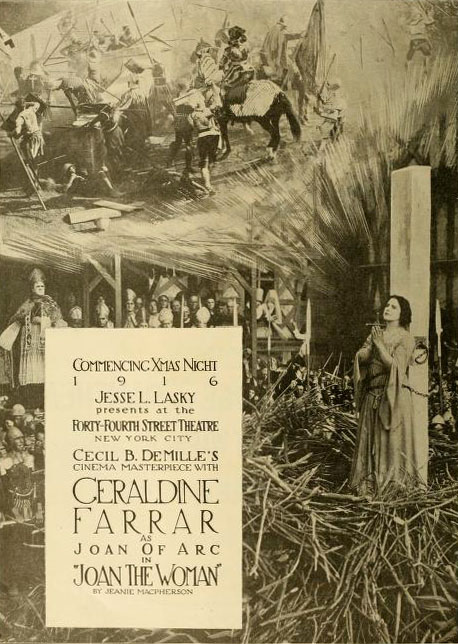 ---
The film premiered in New York City on December 25, 1916 at the 44th Street Theatre. It received good reviews and earned over double its cost at the box office.
For many decades the film has been seen in less than pristine copies missing most of its colour effects. For this restoration, the George Eastman Museum returned to Cecil B. DeMille's personal nitrate print. Working in collaboration with Haghefilm Digitaal, this restoration will bring back Joan the Woman to present day audiences in a way not seen in over 100 years.